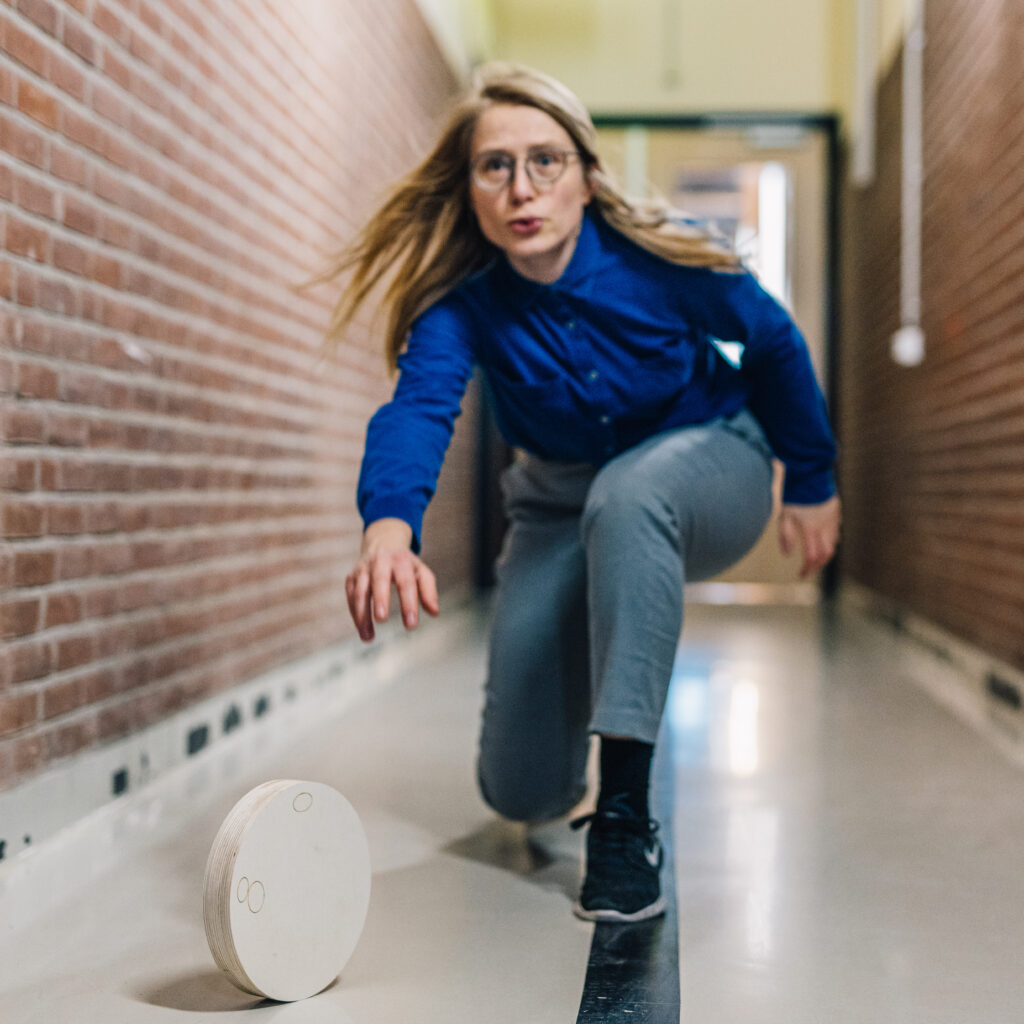 Artistic process and results should be public constantly. My current nine month presence as an artist in a primary school contributes to this conviction. It constitutes my aim to make art in and with the real world.
To do so I create participatory works: conversations, playing sessions, audio tours, walks. The works always have the same playfull estatics with bright colors, materials as fabric and wood and language. With these works I try to come closer to my public. I believe participation has the power to bring art close by.
To do so I research play. What we could gain of art as a space to play. How play can seduce you to connect to a space, materials and others. And how we could play more as adults in this over structured and ruled society.
Laura Bolscher (1991, Leeuwarden) is a visual artist. 
She currently lives and works in Amsterdam, The Netherlands.
Comming up / Curently
13th of October | 11th – 19th October 
Decennial Dialogues @ Academie Minerva 
Education
| 2019 – 2021 | Master Kunsteducatie,
Breitner Academie, Amsterdam 

| 2016 – 2018 | MFA Sandberg Institute,
Reinventing Daily Life, Amsterdam 

| 2009 – 2013 | BFA
Academie Minerva, Groningen 
| 2012 | BFA Exchange
Hunter College CUNY, New York 
Prizes
| 2013 |
Klaas Dijkstra Academieprijs
| 2013 |
Aanmoedigingsprijs Coba de Groot Stipendium 
Selected Exhibitions and Others
Artist in Residence @ Gastatelier De Vindplaats, Amsterdam | 2022-2023
Open Atelier @ Gastatelier De Vindplaats | 30 & 1st of july
Lecture evening @ Gastatelier De Vindplaats, Amsterdam | 26th of January 2023
Artist in Residence @ Culture Club, Marineterrein Amsterdam | 2021 – 2022
Social Aspects @ Derde Wal, Nijmegen | October 2020
Ontmoetingsmenu @ Onderzoeksconferentie LKCA, Ede | February 2020
Home:front @ SIGN, Groningen | February & March 2019 |
– 1st talk, A Talking Lamp and Others, 24th of Februari
– 2nd talk, Talking with your Tonque, 9th of March
– 3rd talk, Coding Conversations, 24th of March
24-hours residency @ SYB, Beetsterzwaag | 2&3 of March 2019 |
narrowcasting jajajaneeneenee @ NP3, Groningen | 28th February 2019 |
De Kantine, Reinventing Daily Life @ Nieuwe Looiersstraat 49, Amsterdam | June 2018 |
Lab voor een leuker leven @ Lab 111, Amsterdam | November 2017 |
OPTIM @ De Slagen, Den Bosch | May 2017 |
Hoofdafdeling Bijzaken Belastingdienst @ EAF, De Balie, Amsterdam | December 2016 |
Vuur|Toren|Wacht @ Kunstmaand Ameland, Ameland | November 2016 |
Aandacht Maakt @ Galerie Inkijk, Polderlicht, Amsterdam | Juli & August 2016 |
"I am not doing anything until I feel the need" My Calender Day @ calendar | 2015 |
Torenkamer Festival @ Vondel CS | June 2015 |
"I am not doing anything until I feel the need" Publication calendar + exhibition @ DNB | 2014 |
Artist in Residence in De Torenkamer, Opium op 4 @ Vondel CS, Amsterdam | 24th – 28th nov. 2014 |
"I am not doing anything until I feel the need" Publication calendar + exhibition @ OBA | End of 2014 |
Open Stal @ Oldeberkoop | July 2014 |
"Ik drink zonder T", duoshow met Harro van Aalderen @ Het Langhuis, Zwolle | June 2014 |
Kingsday Parade @ Kunsthuis Syb, Beetsterzwaag | April 2014 |
Pecha Kucha @ Ignite festival, Mediamatic, Amsterdam | January 2014 |
Vluchtbasis, Artist in residence @ Kunsthuis SYB, Beetsterzwaag | January – February 2014
Performance for Provo event Art Kitchen @ NRC gebouw, Amsterdam | November 29th |
Jonge harten pop up cafe @ The Gym, Groningen | November 2013 |
Colour up the world @ CBK Drenthe, Assen | August – October 2013 |
Final Graduation Show @ Academie Minerva, Groningen | July 2013 |
Laura & Ferdi, 24 hour Residency of Sober and Lonely @ Kunsthuis SYB, Beetsterzwaag | May 2013 |
Leerling/Meester Femke Schaap @ Kunstpodium T, Tilburg | March 2013 |
In Search Of part 3 @ Galerie Waalkens, Finsterwolde | October 2012 |
Leerling/Meester selection Minerva @ Academie Minerva, Groningen | September 2012 |
Sturm und Drang, Performance Night @ Hunter College, New York | June 2012 |
Open Studios @ Hunter College, New York | April 2012