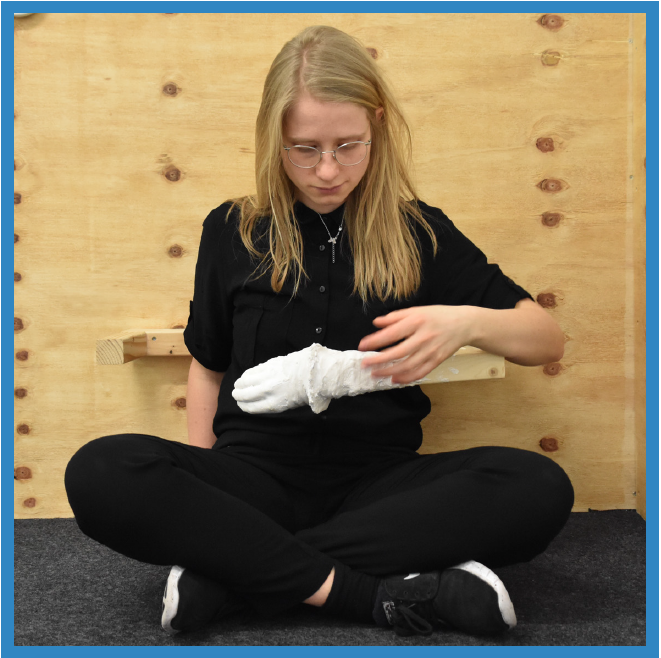 Laura Bolscher (1991, Leeuwarden) is a visual artist who builds interactive installations using her public as material. The installations function as reassuring surroundings to initiate conversations between objects, performers and the public.  She develops conversations on the subject of human interaction, (mis)communication, language and the current needs and virtues in the digitization of our world. 
Education takes an important place in her practice. Except of developing and teaching educational project for art school students and toddlers, she aims to inspire, nurture and mobilize the public of her works behind the walls of the exhibition space. 
Laura currently lives and works in Amsterdam, The Netherlands. 
Curently
Artist in Residence @ Gastatelier De Vindplaats, Amsterdam | 2022 – 2023
Education
Master Kunsteducatie, Breitner Academie, Amsterdam | 2019 – 2021 |
MFA Sandberg Institute, Reinventing Daily Life, Amsterdam | 2016 – 2018 |
BFA Academie Minerva, Groningen | 2009-2013 |
BFA Hunter College CUNY, Exchange, New York | 2012 |
Prizes
Klaas Dijkstra Academieprijs | 2013 |
Aanmoedigingsprijs Coba de Groot Stipendium | 2013 |
Selected Exhibitions and Others
Artist in Residence @ Culture Club, Marineterrein Amsterdam | 2021 – 2022
Social Aspects @ Derde Wal, Nijmegen | October 2020
Ontmoetingsmenu @ Onderzoeksconferentie LKCA, Ede | February 2020
Home:front @ SIGN, Groningen | February & March 2019 |
– 1st talk, A Talking Lamp and Others, 24th of Februari
– 2nd talk, Talking with your Tonque, 9th of March
– 3rd talk, Coding Conversations, 24th of March
24-hours residency @ SYB, Beetsterzwaag | 2&3 of March 2019 |
narrowcasting jajajaneeneenee @ NP3, Groningen | 28th February 2019 |
De Kantine, Reinventing Daily Life @ Nieuwe Looiersstraat 49, Amsterdam | June 2018 |
Lab voor een leuker leven @ Lab 111, Amsterdam | November 2017 |
OPTIM @ De Slagen, Den Bosch | May 2017 |
Hoofdafdeling Bijzaken Belastingdienst @ EAF, De Balie, Amsterdam | December 2016 |
Vuur|Toren|Wacht @ Kunstmaand Ameland, Ameland | November 2016 |
Aandacht Maakt @ Galerie Inkijk, Polderlicht, Amsterdam | Juli & August 2016 |
"I am not doing anything until I feel the need" My Calender Day @ calendar | 2015 |
Torenkamer Festival @ Vondel CS | June 2015 |
"I am not doing anything until I feel the need" Publication calendar + exhibition @ DNB | 2014 |
Artist in Residence in De Torenkamer, Opium op 4 @ Vondel CS, Amsterdam | 24th – 28th of november 2014 |
"I am not doing anything until I feel the need" Publication calendar + exhibition @ OBA | End of 2014 |
Open Stal @ Oldeberkoop | July 2014 |
"Ik drink zonder T", duoshow met Harro van Aalderen @ Het Langhuis, Zwolle | June 2014 |
Kingsday Parade @ Kunsthuis Syb, Beetsterzwaag | April 2014 |
Pecha Kucha @ Ignite festival, Mediamatic, Amsterdam | January 2014 |
Vluchtbasis, Artist in residence @ Kunsthuis SYB, Beetsterzwaag | January – February 2014
Performance for Provo event Art Kitchen @ NRC gebouw, Amsterdam | November 29th |
Jonge harten pop up cafe @ The Gym, Groningen | November 2013 |
Colour up the world @ CBK Drenthe, Assen | August – October 2013 |
Final Graduation Show @ Academie Minerva, Groningen | July 2013 |
Laura & Ferdi, 24 hour Residency of Sober and Lonely @ Kunsthuis SYB, Beetsterzwaag | May 2013 |
Leerling/Meester Femke Schaap @ Kunstpodium T, Tilburg | March 2013 |
In Search Of part 3 @ Galerie Waalkens, Finsterwolde | October 2012 |
Leerling/Meester selection Minerva @ Academie Minerva, Groningen | September 2012 |
Sturm und Drang, Performance Night @ Hunter College, New York | June 2012 |
Open Studios @ Hunter College, New York | April 2012